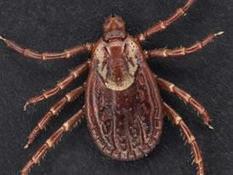 @FranJurga writes: We had a little bit of a frost here in Massachusetts and people are cheering because the danger of the two primary mosquito-borne diseases--Eastern Equine Encephalitis and West Nile Virus--may have died along with our tomato plants.
But one thing that probably hasnt died is the ticks in the grass and woods.
Lyme disease is a big problem here for horses and humans, both, but that is merely the most well-publicized tick-borne disease.
In other parts of the United States, equine piroplasmosis is a problem, and it could spread to more parts of the United States. When an outbreak in Texas centered on a single large ranch, it became obvious that those horses could be traveling all over the USA.
Extension.org has an excellent basic article that will make you hate and fear ticks even more than you already do.

How ScoopIt works: click on the big headline or photo to go to the story.
While you're here, you can follow The Jurga Report's Scoopit news headline feed.
Read lots more horse health and welfare stories on The Jurga Report for Equus Magazine on equisearch.com.
Via
Fran Jurga