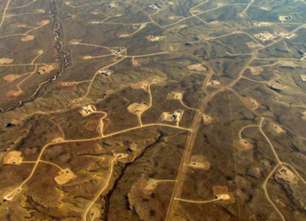 New Fracking report details some scary facts about the dangers of pouring toxic waste into the earth to expose natural gas fissures:

The report measured key indicators of fracking threats across the country, including:
280 billion gallons of toxic wastewater generated in 2012—enough to flood all of Washington, DC, in a 22-foot deep toxic lagoon
450,000 tons of air pollution produced in one year
250 billion gallons of fresh water used since 2005
360,000 acres of land degraded since 2005
100 million metric tons of global warming pollution since 2005

Reviewing the totality of this fracking damage, the report's authors conclude: Given the scale and severity of fracking's myriad impacts, constructing a regulatory regime sufficient to protect the environment and public health from dirty drilling—much less enforcing such safeguards at more than 80,000 wells, plus processing and waste disposal sites across the country—seems implausible. In states where fracking is already underway, an immediate moratorium is in order. In all other states, banning fracking is the prudent and necessary course to protect the environment and public health.