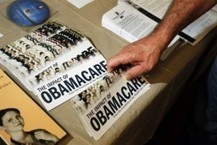 Next week, as uninsured Americans begin signing up for coverage in the Affordable Care Act's health care marketplaces, Republicans will seize on the trickle of early beneficiaries and technical glitches to paint the measure as a failure. But administration officials tasked with implementing President Obama's signature domestic policy accomplishment are anticipating these attacks and are confident they will win the public debate and meet their enrollment targets over the long term.
On Tuesday, the nation's 48 million uninsured will be able to log on to Healthcare.gov, dial a federal hotline, or visit a community "navigator" and begin enrolling in health care coverage through the law's state-based exchanges to receive coverage next year. The Congressional Budget Office estimates that 7 million enrollees will participate in the marketplaces in 2014; 9 million will sign up for Medicaid. By 2023, the exchanges will hold 24 million people and the law's Medicaid expansion will accompany another 13 million.
But health care experts caution that enrollment may prove to be more of a marathon than a sprint and will work best in states that are actively helping uninsured people sign up for coverage....
(CLICK PIC TO READ ENTIRE POST)