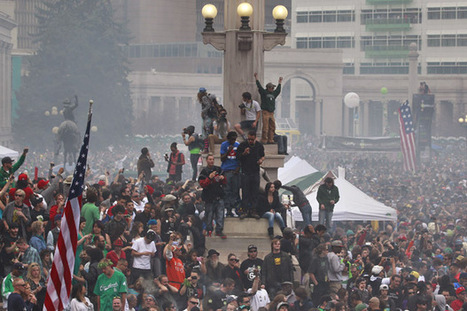 Data released Monday by the Federal Bureau of Investigation show there were an estimated 1,552,432 arrests for drug-related crimes in 2012 – a slight uptick from the 1,531,251 drug arrests in 2011. Marijuana offenses accounted for 48.3 percent of all drug arrests, a slight reduction from 49.5 percent in 2011, which itself was the highest rate since before 1995.
Most marijuana-related arrests were for possession of the drug. By mere possession, there was one marijuana arrest every 48 seconds in 2012. Including arrests for distribution, there was a pot-related arrest every 42 seconds, the same interval as in 2011.
Advocacy groups that back campaigns to legalize or decriminalize weed said police should prioritize solving violent crimes – the number of which bumped upward from 2011 to 2012 – over arresting marijuana users.
According to the FBI's Uniform Crime Report data, there were an estimated 1,214,462 violent crimes reported to police in 2012, a 0.7 percent increase. FBI Director James Comey noted in a statement this was the first overall increase in violent crime in six years.
Just 40.1 percent of the 84,376 forcible rapes reported to police and 28.1 percent of the 354,520 robberies were solved by law enforcement. Around 62.5 percent of the 14,827 murder cases were closed, as were 55.8 percent of the 760,739 aggravated assaults.
(CLICK PIC TO CONTINUE READING)