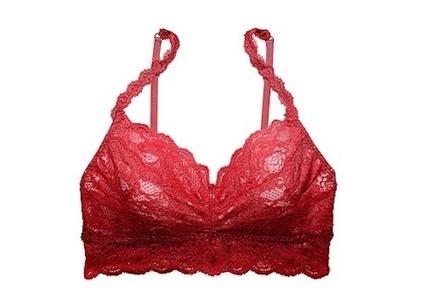 The average bra size in America is growing at a nearly exponential rate. According to sales data and customer surveys collected by national lingerie retailer Intimacy, the average American cup size has gone from 34 B in 1983 to a whopping 34 DD in 2013.
The inflation of the American breast has not gone unnoticed: Florence Williams authored an entire book on the subject in 2012, in which she said that the the average bra size has grown from a 34B to a 36C in the last 15 years. But Intimacy's statistics are especially dramatic (34DD? Really?) We checked in with some other retailers to see if they had noticed a similarly busty trend.
According to the retailers we talked to, sizes appear to be on the upswing throughout the industry. The current bestselling bra size size at online lingerie emporium Figleaves.com is a 34 E. Figleaves.com's private label brand Just Peachy has also seen a high demand in larger sizing—up to 38 G. The retailer also has plans to roll out a new collection offering selections up to 38 H to continue to meet demand.
(CLICK TO CONTINUE READING...)