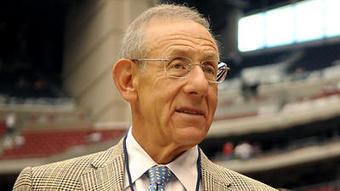 Miami Dolphins owner Steve Ross is getting rid of half of his $4.4 billion fortune — all for the sake of charity.
Ross became on Tuesday one of the new nine members to join the Giving Pledge, which is a long-term, global initiative created by Warren Buffett and Bill and Melinda Gates that aims to inspire deeper engagement in philanthropy and increase charitable giving globally.
"As a very young boy my uncle taught me a valuable lesson, the importance of giving back and using your impact and influence to make the world a better place," Ross said in a statement. "Although I have generally conducted my philanthropic efforts privately, I hope through publicly committing to the Giving Pledge that I will inspire others to commit to significant philanthropy the way my uncle inspired me.
"I am delighted, grateful and honored to join this important effort in the hope that collectively we can leave the world a little better place than we found it."
(CLICK PIC TO CONTINUE READING)