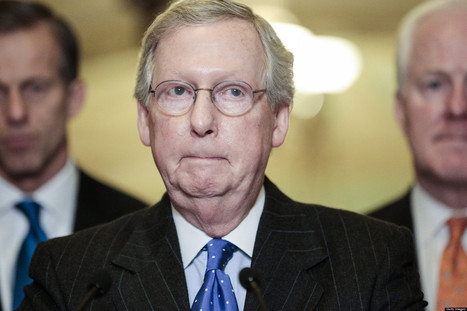 Senate Minority Leader Mitch McConnell (R-Ky.) announced that he will be among those filibustering the gun package that Senate Majority Leader Harry Reid (D-Nev.) is trying to bring up.
"Sen. McConnell opposes the Reid bill," McConnell spokesman Don Stewart said in a statement. "While nobody knows yet what Sen. Reid's plan is for the gun bill, if he chooses to file cloture on the motion to proceed to the Reid bill, Sen. McConnell will oppose cloture on proceeding to that bill."
McConnell is the 14th Republican to join the filibuster effort being led by Sen. Rand Paul (R-Ky.). The GOP leader could have opted to stay out of it, letting the votes happen on the gun package and putting the pressure on House Speaker John Boehner (R-Ohio) to decide the bill's fate, if it even made it out of the Senate. Instead, McConnell is making a calculated decision to be part of the filibuster effort that could derail the entire push for gun control legislation.
(click pic to continue reading)