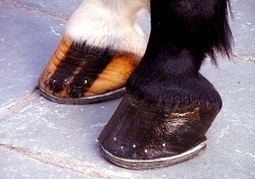 "Last year, Boehringer Ingelheim's 'Talk About Laminitis' disease awareness initiative saw over 9000 horses and ponies tested for PPID through its free ACTH test scheme.
"'Talk About Laminitis', which is backed by Redwings, The British Horse Society and World Horse Welfare, will run from mid March until the end of June, and Boehringer Ingelheim is again urging veterinary surgeons to carry out free ACTH blood tests on laminitic or foot-sore horses.
"We are learning so much from these tests," comments Professor Andy Durham from the Liphook Equine Hospital, where the ACTH tests are performed.
"For example, we are now recognising PPID routinely in laminitic horses and ponies as young as 10 years old, and in the spring when we might expect to see more EMS cases, where veterinary surgeons have also tested for PPID we are seeing both abnormally elevated ACTH and insulin.
"Unless the PPID is addressed, horses will continue to be at risk of painful recurrent laminitic episodes which is a significant welfare issue to the horse and extremely frustrating for owners."
More information is available at www.talkaboutlaminitis.co.uk