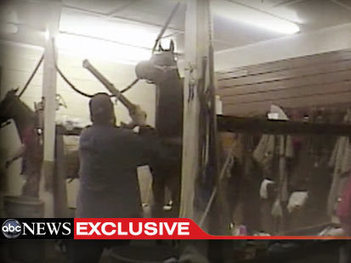 "On the day of the ABC News broadcast, Pepsi Co dropped its longtime sponsorshop of the annual Tennessee Walking Horse Celebration.
"Shortly afterwards, two of the country's leading veterinary groups joined forces to push Congress for better protection of the horses. The American Veterinary Medical Association and the American Association of Equine Practioners both began urging politicians to ban the use of "action devices" – chains and pads that are often used in conjunction with the chemicals that 'sore' the horses' ankles."
@HoofcareJournal writes: ABC and the Humane Society of the United States (HSUS) aired the horse industry's ugliest, dirtiest laundry in prime time in 2012. Here's their recap on what impact that investigation had.
Click on the headline or image to go the ABC News report on the impact of their broadcast.
Keep up with all the news of hoofcare in the equine world via Fran Jurga's Hoof Blog.
Hoofcare and Lameness has a Facebook page, too!