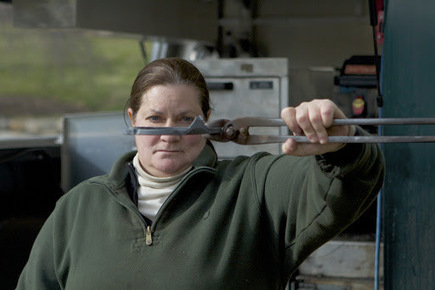 @MarthaStewart writes: With five Friesians, Linda Friedman, a farrier, is a regular visitor at the farm. Linda, who spent five years as an apprentice before starting out on her own, has been a farrier for more than twenty-five years and she is a master at trimming and shoeing horses' hooves...
Click on the headline or image to open the article and GREAT slide show on themarthablog.com.
@FranJurga writes: My friend Linda Friedman is featured again--how to fit winter shoes, step by step, in 30 slides. Can you imagine having someone like Martha Stewart for a client?
Somehow, Martha Stewart and the idea of hoof clippings, rasp shavings, spent nails, dirty old shoes...well, let's just say I'm surprised how often Martha Stewart waxes poetic on the subject of shoeing.
Have you ever seen the interior of her barn?
Linda shoes at Martha's farm in upstate New York and has been featured several times on her blog. The horses are often featured, and much photographed, as well.
I think that Martha Stewart's interest in horses in general and farriery in particular is very exciting. This is also my first glimpse at Linda's new shoeing rig--very nice!