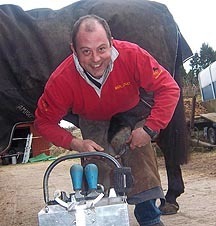 Working under a particularly heavy horse this week, I had no idea how much noise I was making until Kris, my training farrier pointed out that I sounded like a steam train.

It must have been the level of concentration, or just the shear effort of holding this horse up, that made me grunt and groan without realising. How embarrassing!
Click on the headline or photo to read the full blog post on the Horse and Hound web site.
Follow Hoofcare Publishing for hoofcare and horse health/welfare news:

On Twitter: @hoofcarejournal

On Facebook: www.facebook.com/hoofcareandlameness

The Jurga Report blog for EQUUS Magazine: http://blogs.equisearch.com/horsehealth

Fran Jurga's Hoof Blog: http://www.hoofcare.blogspot.com