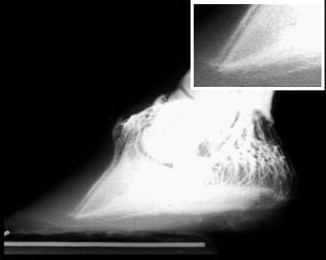 Published in the Journal of Equine Veterinary Science, Volume 32, Issue 11, Pages 757-759, November 2012, Authors: Susan Eastman, BS; Ric F. Redden, DVM; Carey A. Williams PhD
Venography is a very valuable tool that can be used in the diagnosis and treatment of laminitis. It can be used to assess vascular damage in the hoof before changes in radiographic detail occur. When used at onset, the venogram proves to be most valuable. They can not only give baseline measurements but can also show the level of damage that has already occurred.
Initial venograms allow farriers and veterinarians to evaluate what degree of corrective treatment is necessary for the best outcome. In addition, a series of venograms can show the process of pathology as well as recovery. From here, treatment can be altered to accommodate the case.
Link to paper: http://www.sciencedirect.com/science/article/pii/S0737080612000962
Are you following @HoofcareJournal on Twitter?
Have you "liked" the hoofcare and lameness news and media page www.facebook.com/hoofcareandlameness?