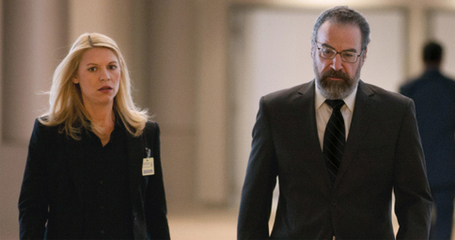 'Homeland,' producers are following up the season 2 finale by discussing
where season 3 will take Carrie, and what possible storylines await the surviving characters.
At any rate, in a separate interview with Entertainment Weekly, Gansa stated that the writers are keen on approaching season 3 with less emphasis on another catastrophic terrorist strike that Carrie and Saul will try to prevent. If the inference in what he's saying is correct, then the series could be looking at a storyline that is smaller and more intimate"We know roughly what season 3 is. There's some big muscular moves that we know will happen but there's a lot to be filled in still. I think all of us on the writing staff would rather not do an impending attack that Carrie stops for the third year in a row. Having said that, we haven't found that narrative engine that's going to take us through the third season so I have to reserve judgment. We're looking for something that's smaller, that is sort of a little more John LeCarré."
When you take into consideration the fact that there is still a mole in the CIA, who, according to Gansa may "have been responsible for moving [Brody's] car to in front of the auditorium," and the underlying history and possible lack of trust between Saul and the enigmatic Dar Adal (F. Murray Abraham), it doesn't take much to see a little Tinker Tailor Soldier Spy-like inter-agency battle of wits taking place. As such, the assumption at the end of 'The Choice' was that Saul might be in line for a larger decision-making role in the CIA, which would conceivably put him in a position to better weed out said mole, and possibly do more good than his predecessor.
There are still several months between now and when production on season 3 would be scheduled to begin, so much of what Gansa and Gordon have discussed could be subject to change. Hopefully, though, some of the more intriguing aspects they've brought up will bear fruit, as they sound like an intriguing way to continue the Homeland story.
-
Homeland will return to Showtime for season 3 in the fall of 2013. Screen Rant will continue to update you with news, as it is made available.