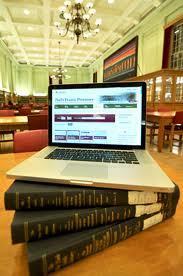 By Jennifer Thew, RN: EBP has really taken off in the nursing profession over the past five years as hospitals strive to improve patient outcomes and patient safety, save money, and push for for Magnet designation. It involves applying research and data to direct patient care in the hopes of improving outcomes. EBP is not theoretical, it is practical. It allows nurses to take research and use it at the bedside.
Melissa Cole, RN, Senior Consultant at Healthcare Transformation Resources, said medical librarians can be even more valuable when they leave the stacks and join the healthcare team at the bedside. Cole said Lorri Zipperer , of Zipperer Project Management, coined the word "cybrarians," to describe medical librarians who use technology to find, evaluate and share information with the clinical team.
"There's so much information out there," said Cole. "Clinicans can't be expected to hold it all in their brains."
Cole and LSU Clinical Medical Librarian Julie Esparza, are co-writing a book chapter on using cybrarians at the bedside.
"The cybrarian rounds with a laptop and has access to something other than WebMd," explained Cole.