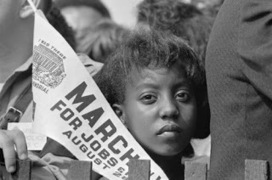 Nomadic Politics
Of the many critical moments in American history, the year 1963 stands out as one of the most climactic.
Perhaps it was mainly because that year culminated, as we all know, with the shocking murder of a president in Dallas.

Yet there was so many things going on and so many stories being told just before that awful moment that were lost in the shadow that fell over the nation after the assassination.
In this post, I'd like to follow a chain of change that was taking place in that year and why the events of that particular year still reverberate today.
[MORE]
Via
J'nene Solidarity Kay