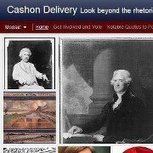 Facebook Page for the Cashon Delivery Blog.
Most news articles have a perceived bias leading to misinformation, some more than others, but if I had to choose which I would rather read, I would choose the one that needed only tweezers instead of a shovel to get to the truth.
Look beyond the rhetoric and uncover the truth.