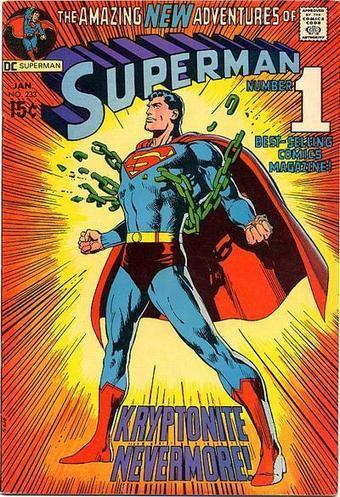 RENDRE LES COMICS ACCESSIBLES À TOUS, OU PRESQUE !
#152 : le 1er juin 1938 naissait Superman.
Les premières aventures de Superman apparaissent dans le magazine Action Comics. Le personnage de Superman, tour à tour journaliste timide et extraterrestre aux pouvoirs surnaturels, est né de l'imagination de deux copains passionnés de science-fiction, Jerry Siegel et Joe Shuster. Au début, le super-héros ne vole pas dans les airs, il peut juste effectuer des sauts d'environ un kilomètre et demi. Le succès de Superman deviendra mondial à partir de 1978 grâce au film de Richard Donner, avec Christopher Reeves dans le rôle-titre.
::: PROGRAMME D'HISTOIRE DES ARTS :::
➊ DOMAINE : Arts populaires / Arts visuels (Bande-dessinée)
➋ THÉMATIQUE : (entrées possibles)
► "Arts, créations, cultures" (la société américaine, la société de consommation aux travers de ses superhéros),
► "Arts, états, pouvoir" (idéologie et propagande américaines dans l'imagerie populaire)
➌ NIVEAU SUGGÉRÉ : 3ème.
::: POUR ALLER PLUS LOIN :::
SUR LES COMICS
► La Bande Dessinée // Comics américains : un art populaire au service de la guerre idéologique
http://museclio.over-blog.com/article-la-bande-dessinee-comics-americains-un-art-populaire-au-service-de-la-guerre-ideologique-83072404.html
► Les indispensables DC COMICS
http://www.comicsblog.fr/9668-Les_indispensables_DC_Comics
SUR SUPERMAN
► Toute l'histoire de Superman en une image (in english)
http://blog.thibautparent.com/wp-content/img/superman-man-of-steel-histoire-infographie.jpg
► Superman à travers les âges
http://www.gqmagazine.fr/pop-culture/livres/diaporama/superman-a-travers-les-ages/12579/image/742654#1
► Superman : histoire et panorama des personnages de la BD
http://www.citizenkid.com/article/superman-histoire-panorama-personnages-bd-comic-a1042711
► 10 secrets sur Superman
http://blog.francetvinfo.fr/case-a-part/2013/04/11/les-10-secrets-de-superman.html
SUR MAN OF STEEL - sortie le 19 juin :
► Trailer http://www.youtube.com/watch?v=Xw4VeR7tCxU
► Man Of Steel, le film : le reboot de Superman, pas qu'une histoire de slip rouge
http://www.citizenkid.com/article/man-of-steel-film-superman-2013-infos-a1043327
► Le mythe de Superman d'Umberto Eco
http://www.persee.fr/web/revues/home/prescript/article/comm_0588-8018_1976_num_24_1_1364
► IN ENGLISH
http://dc.wikia.com/wiki/Superman
http://www.dccomics.com/superman
► Andy Warhol, «Superman», 1981, Sérigraphie, 153 x 153 cm.
http://www.artactuel.com/artiste-contemporain-confirme/warhol-andy-28/oeuvres/superman-4793.html
Dossier pédagogique sur Warhol (PDF) http://www.ecoles.cfwb.be/ienseclg/pedago/Warhol_and_CoW.pdf