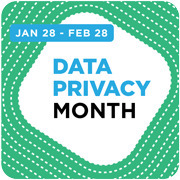 For Data Privacy Month this year, our theme is "Respecting Privacy, Safeguarding Data, Enabling Trust." If I were re-writing the theme, I would add "Privacy Matters." It matters a lot.
Data Privacy Month (January 28–February 28) presents an opportunity for universities to collaborate with one another, and to raise awareness on our campuses about the importance of protecting privacy rights.
On our campuses, privacy is not simply a legal obligation. Our privacy policies and practices pave the way for us to build trust and demonstrate respect for our faculty, staff, and students.