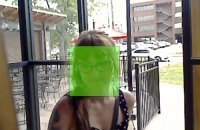 "Everyone loves a discount, especially if you get the money-off code sent straight to your phone without having to do anything. Well, that is, apart from allowing your face to be scanned.
Facedeals works like this: a camera is installed in a business, let's say a shop. The Facedeals camera scans your face when you enter the shop, checks you in on Facebook and sends your phone a text message offering you a discount or deal tailored to you, based on your Facebook 'like' history.
You'll need to install and authorise the app on Facebook first and let it map your face by scanning through your most recently tagged photos, but anything for a discount, right?"