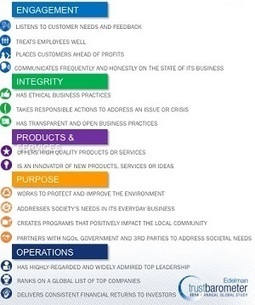 These six goals can be game changers for businesses and are all attributes that can be reinforced through the strategic use of social media.
One of the most valuable aspects of a solid social media engagement strategy and online presence is having the ability to build trust with consumers.
We have been writing a lot about that recently, whether its in the financial industry, the world of healthcare, or any vertical for that matter.
Authenticity is key, and social media tools and platforms can help companies make authentic connections with their customers if they are used in the right way.
The 2014 Edelman Trust Barometer (from their annual global study) is out now, and it breaks down 16 specific attributes that businesses can improve on to build trust....
Via
Jeff Domansky