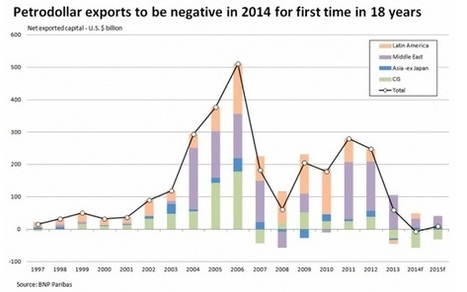 To summarize: Western economic sanctions on Russia have pushed domestic oil producers to settle crude exports to China in yuan just as Russian oil is rising as a percentage of total Chinese crude imports.
Meanwhile, the collapse in crude prices led to the first net outflow of petrodollars from financial markets in 18 years, and if Goldman's projections prove correct, the net supply of petrodollars could fall by nearly $900 billion over the next three years. All of this comes as China is making a concerted push to settle loans from its newly-created infrastructure funds in renminbi.
Putting it all together, the PetroYuan represents the intersection of a dying petrodollar and an ascendant renminbi.