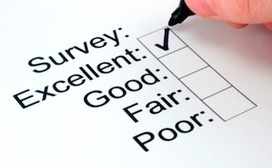 The benefits of conversion rate optimization (CRO) are obvious, but testing is expensive, costing you not just media dollars but with an opportunity cost as well.. Here's how to set yourself up for maximum success before you begin testing.
Key synopsis...
Gathering Qualitative Data
There are numerous methods to go about gathering this information. Here are some great options, many of them free to use:
Ask the reps: Your sales team and customer service teams spend the bulk of their time speaking with your customers. Why not set up a meeting with the top performers from each team to get their thoughts on your current marketing messaging, on how they overcome objections, and on what gets them such good results?Take matters into your own hands: It might sound crazy, but for a refreshing reality check, invest some time in calling your customers yourself.Implement a survey: There are several ways to incorporate surveys to get answers from customers and site visitors.You could have your customer service reps use a simple free tool like SurveyMonkey and potentially offer to enter customers into a sweepstakes to win a gift card for taking part.You could use an exit survey on your landing pages, leveraging a tool such as 4Q from iPerceptions, which is free and super simple to use.You could implement a survey on your landing page itself using a tool such as Qualaroo, which prompts users to share insights as they are navigating your website.Analyze on-site behavior: To gain an understanding of user behavior on the site without having to ask any questions, leverage tools such as CrazyEgg, which provides heatmaps of where users clicked, and ClickTale, which not only measures scrolling and how much of the page visitors are viewing, but also records little videos of visitors' screens as they navigate your web pages.Conduct usability studies: To really get a solid understanding, invest in a round of feedback gathering with a tool such as UserTesting.com. For best results, have the testers walk through a full path, potentially even comparing the competition. Have them enter keywords into Google (or Bing), and click on your ad. Have them record their reactions to the ad as well as expectations for the landing page. Then have them share their thoughts, either via a structured set of questions or freeform to get more insights. You could even have them visit the competitor's page in this way, and then provide a comparison of the two.
Via
marketingIO