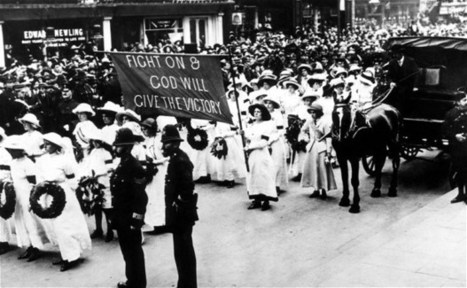 Emily Wilding Davison's actions made her one of the most famous suffragettes of her time. A century of speculation about her death has focused on her possessions at that time. In particular, the return railway ticket in her purse has led many historians to suggest she had no intention of committing suicide that day. However, Elizabeth Crawford's latest research strongly suggests that 'special offer' return tickets were the only ones available on Derby Day, and so this piece of evidence can be discounted. However, other recent research into her death has largely favoured the view that she did not commit suicide on that day, but was instead aware of the possible consequences of her actions and was ready to face them: this being arrest, injury or death. Like FEMEN protesters a century later, she was using her body as a means of protest.
Whatever her motivation, Davison's death remains one of the most iconic moments of the militant suffragette movement, caught on camera, in the years immediately before the First World War. Thousands of women, and some men, took part in the women's suffrage campaign in these years, with hundreds of them being arrested as their demonstrations became more imaginative. The 1911 census boycott, for example, saw many thousands of women physically absenting themselves from being 'at home' on census night by taking part in all-night roller-skating, midnight picnicking in parks, and camping out in caravans. Davison herself hid in a broom cupboard in the House of Commons, thus enabling her to put this exclusive address down as her place of residence. After the failure of successive governments to pursue the women's suffrage agenda, the campaign became more militant. Mostly, the actions were aimed at property, such as setting fire to post boxes (a crime for which Davison was imprisoned), breaking windows and burning bastions of patriarchy such as cricket pavilions.
The State dealt with these actions, not by engaging in dialogue, but by throwing the women into prison. The more militant suffragettes appealed to be made First Division prisoners, the category afforded to political prisoners rather than common criminals. When this was denied, they started hunger strikes...