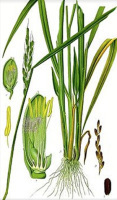 Lemongrass (Cymbopogon citratus) is a Herb/Spice used as a traditional medicine in several cultures and especially used in medicines such as Ayurveda. Gbenou et al studied the anti-inflammatory effects of Lemongrass and another herbal extract.
The study identified aldehyde molecules in both essential oils mediating antioxidant activity that may contribute to the anti-inflammatory effects observed.
In conclusion, this investigation indicates the anti-inflammatory property of Lemongrass, a key ingredient used in The Wise Herb Company range of products, and its role as a therapy dealing with inflammatory-related diseases.