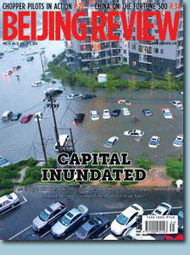 Dozens of deer were released in northeast China's Jilin Province on Sunday during the launch of a project hoped to restore the region's Siberian Tiger population.
Initiated by World Wide Fund (WWF) and local forestry authorities, the program released 12 red deer and 22 sika deer into the forest in Wangqing County near Changbai Mountain.
The deer are expected to complete the food chain of the Siberian Tigers, luring them to migrate from far eastern Russia to China, said Fan Zhiyong, a director at WWF China.
"The Siberian Tiger population is nearing saturation in Russia, while China's Changbai Mountain, Wanda Mountain and Greater Khingan Range are very suitable places for them to settle," Fan said.
The project launched Sunday, the third World Tiger Day, will also include reforestation, anti-poaching campaigns and population monitoring activities in the Changbai Mountain regions, according to WWF.
Siberian tigers are among the rarest species in the world. About 500 are estimated to live in the wild worldwide, most of which inhabit eastern Russia while only about 20 live in northeast China.