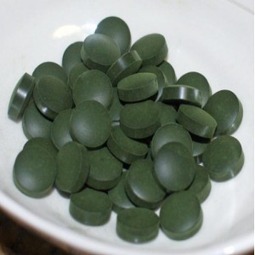 Spirulina is a human super food (nutritional supplement) made primarily from two species of cyanobacteria: Arthrospira platensis and Arthrospira maxima. It is capable of sustaining life without the need for other foods.
Spirulina provides vitamins, many minerals, essential amino acids, carbohydrates and enzymes. Spirulina is at least 60% vegetable protein, which is predigested by the algae, making it a highly digestible food. It is higher in protein than any other food.
Its outstanding nutritional profile also includes the essential fatty acids, GLA fatty acid, lipids, the nucleic acids (RNA and DNA), B complex, vitamin C and E and phytochemicals, such as carotenoids, chlorophyll (blood purifier), and phycocyanin (a blue pigment), which is a protein that is known to inhibit cancer.
Spirulina increases Brain Function and provides more mental clarity to people.
It is also known to increase energy.
It has been described as nutrition for the brain because it provides essential nutrients that help with brain development and maintenance of brain cells.
The chlorophyll present in spirulina helps in detoxifying the body.
More:
http://spirulina.org.uk/what_is_spirulina.htm