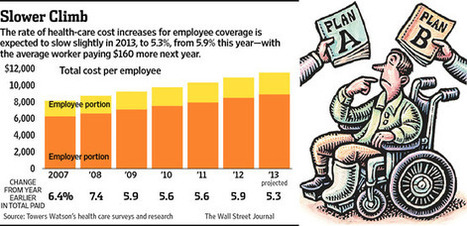 My comment: regardless of your support or opposition to ACA (Obamacare) these first set of changes due at the beginning of 2013 are mostly good. Higher premiums can't really be blamed on the ACA since the graph shows this rate of increase over the last several years is steady.
=======================
Next year will see some of the many significant changes brought on by the Affordable Care Act, including easy-to-read plan summaries and caps on flexible spending accounts.
FIVE changes:
1. Higher Premiums
2. Straightforward Summaries
3. Flexible Spending Account Limit
4. Dependent Coverage
5. Higher Spending Cap - cap rises to $2 million, from $1.25 million