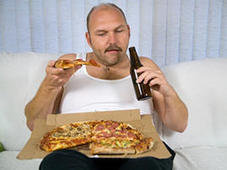 Male obesity is increasing but few men take part in weight loss programs. We assessed the effect of a weight loss and healthy living program on weight loss in football (soccer) fans.
747 male football fans aged 35—65 years with a body-mass index (BMI) > 28 kg/m2 from 13 Scottish professional football clubs. Participants were randomly assigned, stratified by club, to a weight loss program delivered by community coaching staff in 12 sessions held every week. The intervention group started a weight loss program within 3 weeks, and the comparison group were put on a 12 month waiting list. All participants received a weight management booklet.
At 12 months the mean difference in weight loss between groups, adjusted for baseline weight and club, was 4·94 kg (10.9 lbs) and percentage weight loss, was 4·36% (3·64—5·08), both in favor of the intervention.
The FFIT programme can help a large proportion of men to lose a clinically important amount of weight; it offers one effective strategy to challenge male obesity.
Here's the link to the article on Lancet
http://www.thelancet.com/journals/lancet/article/PIIS0140-6736(13)62420-4/abstract