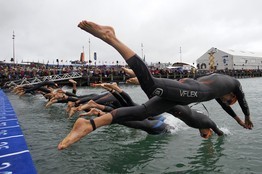 My comment: Another vote for moderation. Being sedentary is clearly NOT healthy. But this data suggests that "Chronic extreme exercise appears to cause excessive 'wear-and-tear' on the heart,".
==================================
A fast-emerging body of scientific evidence points to a conclusion that's unsettling, to say the least, for a lot of older athletes: Running can take a toll on the heart that essentially eliminates the benefits of exercise. What the new research suggests is that the benefits of running may come to a hard stop later in life. In a study involving 52,600 people followed for three decades, the runners in the group had a 19% lower death rate than nonrunners, according to the Heart editorial. But among the running cohort, those who ran a lot—more than 20 to 25 miles a week—lost that mortality advantage.