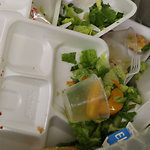 Students get more fruits and vegetables under new nutritional requirements for public school lunches, but many children just toss them away.
The Healthy, Hunger-Free Kids Act of 2010, which required public schools to follow new nutritional guidelines this academic year to receive extra federal lunch aid, has created a nationwide version of the age-old parental challenge: persuading children to eat what is good for them.
According to the new restrictions, high school lunches must be no more than 850 calories, middle school lunches no more than 700 calories and elementary school lunches no more than 650. Before, there were no maximums.