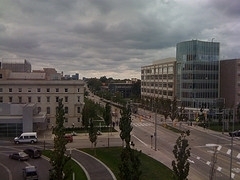 My comment: ACO's (accountability care organizations) are programs only bureaucrats love. It may not matter if patients, doctors and hospitals hate them; there may not be an option in the near future.
======================
Those who would be expected to carry out Obamacare are beginning to revolt.
Although it has been championed as a potential model by the Obama administration, the Cleveland Clinic (pictured) has declined to participate in the administration's "pioneer" ACO progrm. Hospitals & doctors are revolting because ACOs saddle them with significant financial risks and substantial new administrative burdens. Patients won't like them because they'll put government bureaucrats — not their doctors — in charge of their care. Ultimately, ACOs will reduce competition throughout the healthcare market place — and raise costs.