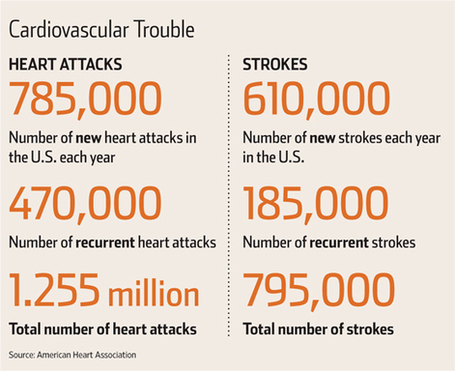 Two major clinical trials are testing for the first time whether treating inflammation can reduce the risk of a heart attack or stroke, potentially opening up a new line of attack in the battle against cardiovascular disease.
Research over two decades has shown that people with chronic inflammation—detectable at low levels, for instance, with a high-sensitivity test for a marker called C-reactive protein—are at significantly higher risk of heart attack and stroke compared with those with evidence of little or no such inflammation.
These are especially high-risk patients for whom current optimal treatment often fails. "We've kind of run out of our tool kit for these individuals and yet they're still having events," said Gary Gibbons, director of the NIH's National Heart, Lung and Blood Institute, which officially funded the study.
The CANTOS trial sponsored by Novartis is testing the company's anti-inflammatory antibody called canakinumab, has already enrolled 3,000 patients of a planned 17,000 patients with stable cardiovascular disease and elevated levels of inflammation. (Ilaris is marketed for inflammatory disease called Muckle-Wells Syndrome.) In proof-of-concept studies, it yielded "provocative" evidence of benefit in coronary arteries.
PMA is participating in the CANTOS trial. For more information see http://www.pmaonline.com/PDF/CACZ885M2301_trial.pdf