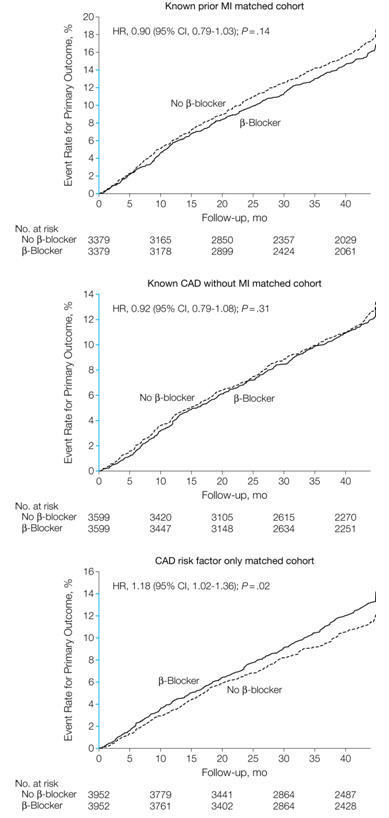 My comment: Another icon of medicine is challenged! If you've had a heart attack (MI), it is the standard of care now to be treated with beta blocker medicines like metoprolol or atenolol indefinitely. Physicians are graded for their use of beta blockers. If these are not used with adequate frequency the physician is considered to not be practicing evidence based medicine. This large study challenges the curent recommendations. This data suggests no benefit with a history of MI from long ago and possibly harm in patients with only risk factors. How long will it take for guidelines to consider this new data is unknown?
=================
Reduction of Atherothrombosis for Continued Health (REACH) registry who were divided into 3 cohorts: known prior MI (n = 14 043), known CAD without MI (n = 12 012), or those with CAD risk factors only (n = 18 653). The primary outcome was a composite of cardiovascular death, nonfatal MI, or nonfatal stroke.
Results: Among the 44,708 patients, 21,860 were included in the propensity score–matched analysis. With a median follow-up of 44 months, event rates were not significantly different in patients with β-blocker use compared with those without β-blocker use. In the cohort with CAD risk factors only, the event rates were higher for the primary outcome with β-blocker use. However, in those with recent MI (≤1 year), β-blocker use was associated with a lower incidence of the secondary outcome.
Conclusion In this observational study of patients with either CAD risk factors only, known prior MI, or known CAD without MI, the use of β-blockers was not associated with a lower risk of composite cardiovascular events.