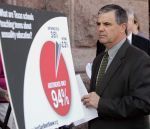 Some Houston-area school districts are shifting away from traditional abstinence-only sex education classes this school year, part of a statewide trend that has prompted concern among some parents that kids are learning too much, too soon about sex.
Texas needs to support our citizens in taking more responsibility for their health and health care decisions.
The key to maintaining health lies in helping patients assume responsibility for their own health with regular support from their physicians. Competent, compassionate medical care, delivered with professionalism, state-of-the-art clinical knowledge, and patient respect are critical components of this responsibility. Conversely, patients have a responsibility to make informed, healthy decisions.