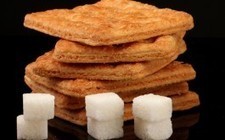 In the U.S., there is a love affair with sugar. But all of this sweetness is having detrimental effects on our collective health.
While sugar consumption is heavily associated with obesity and diabetes development, those aren't the only issues that can arise. Uric acid levels, something we don't normally talk about, are significantly raised by excess sugar consumption. This leads to decreased nitric oxide levels, increased angiotensin levels, and elevated smooth muscle contractions. This, in turn, can cause kidney damage, high blood pressure, and an increased risk of insulin resistance and fatty liver disease. Excess uric acid levels is also known to cause gout, so limiting sugar consumption could be seen as just one of many home remedies for gout and the other conditions.
In addition to this, sugar consumption creates insulin resistance. While we know insulin resistance to be a predicator for type 2 diabetes, it has also been linked to cancer development. One expert suggests that as many as 80 percent of all cancers are connected to insulin resistance.
Via
Bert Guevara