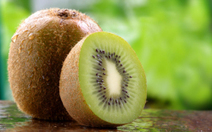 Weighing only 4 ounces, the kiwifruit may be small but packs a powerful immune-boosting punch - treating the common cold faster and preventing sickness.
There is no denying it, cold and flu season is here, and drugstores are busy with cold sufferers seeking relief from symptoms. And with more and more people avoiding mainstream solutions, it's important to outline what can naturally provide relief. Indeed, there may be an easier and more natural way to kick the common cold. In our go-go society everyone wants quick relief, and one little green fruit may be just the answer – kiwi.
Weighing in at only 4 ounces, the kiwifruit may be small, but packs a powerful immune-boosting punch. The gold kiwifruit (Actinidia chinensis) is the subject of a study recently published in the British Journal of Nutrition that suggests a causal relationship between the kiwi and a reduction in the severity and duration of upper respiratory tract infections in healthy older adults.
One hundred and thirty two older adults participated in the research study. Half of the group consumed a diet rich in the gold kiwifruit while the control group received gobbled bananas. In addition to being an excellent source of vitamins C, E, folate, potassium, polyphenols and carotenoids, kiwi is also high in dietary fiber. The study group consumed enough golden kiwifruit to make up 20 percent to the daily recommended allowance of fiber. While bananas contain the same calories and kiwi, they are not as nutrient dense.
During the 28-day research project, both groups experienced a marked decrease in both the severity of head congestion and sore throat. However, the kiwi group's head congestion was relieved four days sooner and their sore throats three days sooner than the banana group. Lab samples also indicated that the gold kiwifruit increased the concentration of electrolytes in the red blood cells.