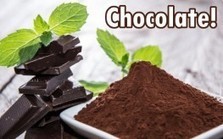 How beneficial is chocolate? Research has shown that consuming dark chocolate can lower blood pressure, prevent oxidative stress, and boost heart health.
The cardiovascular benefits of chocolate come largely from its anti-inflammatory and antioxidant properties. It's loaded with flavanols like quercetin and theobromine.
It's these flavanols that were credited in a recent study for providing better coronary artery protection than coffee and green tea. An ongoing study, according to NaturalNews, is looking at the preventative effects of cacao's flavanols and polyphenols on coronary heart disease.
A study published last year looking at the historical uses of chocolate said that modern research has only begun to touch on all of the heart healthy benefits of the plant. The abstract reads: "The consumption of cocoa/chocolate increases plasma antioxidant capacity, diminishes platelet function and inflammation, and decreases diastolic and systolic arterial pressures."
Know your chocolate. A milk chocolate bar or a pint of chocolate ice cream will not have these many listed benefits, or at the very last, not to the same degree as other more nutritionally-rich chocolates. Instead, chocolate with the highest levels of cocoa per ounce will deliver the most bang for your buck without adding as much sugar to your diet. The answer in simple terms? Dark chocolate.