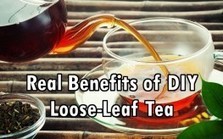 The best way to make sure you are drinking quality tea is to make it yourself from fresh organic herbs. Here are the benefits of DIY loose-leaf tea.
The best way to make sure you are drinking non-GMO, pesticide-free tea, without added plastics or other toxins, is to make it yourself from fresh organic herbs. Don't worry; it isn't as hard as it sounds.
Once you've had a cup of freshly brewed, organic, homemade, whole-leaf, or small-leaf tea, you'll never go back to store-bought, teabags. There is simply no comparison. Plus, the benefits of tea are compounded with a DIY batch, and they are many:
Tea is a known cancer fighter. This is due to the high level of antioxidants concentrated in a single glass, since you are essentially drinking water infused with the utmost nutrition from the leaves, stems, and roots from medicinal plants. Check out the connection between just green tea and cancer here.Tea is full of catechins. These can boost endurance, inhibit weight gain, reduce cardiovascular risks, and slow the aging process. Catechins, a form of antioxidant, can also treat neurological impairment, and reduce LDL cholesterol. Even drinkers of 'English' tea, who like to add milk to the beverage, can still enjoy high levels of catechin absorption.Tea hydrates the body, even when it is caffeinated, and can boost mood.Tea helps to fight free radicals, and LDL oxidation. It has a very high ORAC value; this means that your DNA is protected and you are less likely to contract a host of different diseases.Different teas offer different healing properties to the body. Both black tea and green tea, for example, can improve vascular functioning and protect the heart, while chamomile tea, made from one of the oldest medicinal herbs in history, can aid sufferers of hay fever, inflammation, muscle spasms, menstrual disorders, insomnia, ulcers, wounds, gastrointestinal disorders, rheumatic pain, and hemorrhoids.