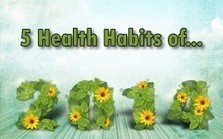 The new year offers a symbolic chance to transform your health. If you want to make serious health changes in 2014, try adopting these 5 simple changes.
If you're in the market for serious health changes this year, consider adopting these 5 simple changes:
1. Shop at the Local Farmer's Market - Buying locally doesn't only mean you get fresher produce, it means you are eating in-season and developing a relationship with the growers in your area.
2. Buy Fewer Boxes and Cans - Not only are processed foods loaded with unknown and often-dangerous ingredients, they don't taste nearly as good as the stuff you make yourself.
3. Pop Fewer Pills - Here are 8 natural antibiotics and 9 amazing healing herbs to help replace the pharmaceuticals for good.
4. Hydrate - Drink more water. If you currently drink 2 glasses a day, aim for 4. If you drink 4, aim for 6.
5. Eat to Live - Eat those foods that fight disease and promote a longer life. Choose natural, organic, whole foods. As for those foods known to cause heart disease, diabetes, and even cancer—leave those on the shelf.