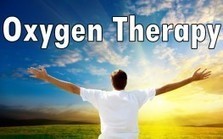 Using oxygen to rid the body of all disease can be extremely effective, but the FDA and others have come down hard on oxygen therapy.
Below is an ignored method of treating and preventing most diseases. It is so potent that it threatens the medical establishment's tyrannical monopoly. All bacterial pathogens, viruses, and parasites are anaerobic and thrive in the absence of oxygen. In fact, they are poisoned by oxygen. Even cancer cells perish with abundant oxygen.

Because of potential Herxheimer reactions ("healing crisis") that can discourage one from continuing, full percentage dosages are usually not administered until the fourth session. Oxygenation techniques can be used simply to improve health with intense detoxification and blood cleansing.
Hyperbaric oxygen therapy is often effective by placing the patient in a highly pressurized chamber of pure oxygen. It has been used successfully for autism, AIDS, and Lyme Disease. This more expensive method requires specially trained personnel as well as special bulky equipment.
Less expensive portable hyperbaric chambers without oxygen are available for home use, though they may be less effective. Non IV use ozone generators for home use are available, but the manufacturers of these devices are often harassed or shut down by the FDA.
Food grade H2O2 or hydrogen peroxide can be mixed with water and consumed as a method of oxygenating serum and tissue cells. Food grade means it's pure and without stabilizers, making it safe for consumption if properly diluted. The over-the-counter is H2O2 3.5% non-food grade and stabilized with toxins. The 35% food grade H2O2 has to be properly diluted.