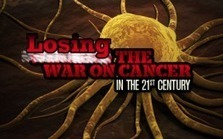 A new report has just confirmed that the war on cancer over the last 30 years has led to more than 1.3 million people being wrongly diagnosed with cancer.
Breast cancer diagnosis has been found to be especially suspect. Many of the 'lumps' found in women's breasts are completely normal and benign. What's more, constant screening with mammography equipment actually exposes women to harmful radiation that can cause cancer, as evidenced by a UCLA study which shows how radiation treatments promotes malignancy in cancer cells instead of eradication. These breast screenings are very carcinogenic, but, as if to add insult to injury, thousands of women are misdiagnosed with breast cancer every year.
The recent study published by the Journal of the American Medical Association has a hopeful subtitle: Overdiagnosis and Overtreatment in Cancer: An Opportunity for Improvement. At least they are calling to light the obvious obsession we have had with chemotherapy and radiation for treatment of cancer. And now they have called into question the means by which it is diagnosed.
The study also points out that early screenings were meant to lessen the burden of those who suffer in late stage cancer, but the screenings have simply not done their job. Not all cancers lead to death, and by being overly paranoid about the medical diagnosis, many radical treatments, including the aforementioned tools most often utilized by mainstream medicine, are often prescribed.