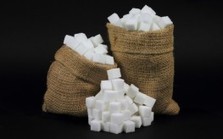 Sugar fuels cancer. A new study has indicated that blocking dietary sugar can reduce tumor development risk and progression of cancer cells.
For the study, Dr. Cagan and his team engineered fruit flies to express Ras and Src, two important oncogenes, resulting in the development of small head tumors. After feeding the flies a high-sugar diet promoting insulin resistance, they found that high dietary sugar acts together with Ras and Src to increase insulin sensitivity specifically in tumor cells. As MedicalNewsToday reports, "By ramping up signaling of an important pathway called Wingless/Wnt, they increased tumor cells' insulin receptors to further promote insulin sensitivity. This cascade of activity changed these small, weak tumors and caused them to begin growing aggressively".

Using these newly identified drug targets (glucose, the RAs/Src oncogenes, and Wingless/Wnt signaling), the researchers identified compounds that could block the process. Using three different drug treatments, the team attacked the three different targets. Together, they "substantially reduced tumor size and progression." ...
Obesity and type 2 diabetes are preventable lifestyle diseases. These are conditions we control. And if they are creating an environment that fosters prolific tumor growth, we can use that knowledge to combat both cancer and the metabolic disorders that increase the risk of cancer.