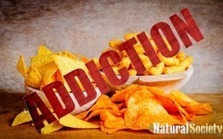 A new study has found that the junk food plaguing grocery store shelves alters certain parts of your brain, triggering an addiction similar to drugs.
The group who ate the high-glycemic milkshake was far hungrier after a four hour period than the other group, indicating that a high glycemic response could cause someone to crave foods more intensely and sooner than those who eat healthier options.
Further, brain scans revealed those who drank the high-glycemic milkshakes had an intense response in the nucleus accumbens, an area of the brain crucial in pleasure and reward response. This is the same area of the brain that has displayed similar activation patterns with the consumption of heroin and cocaine.
While some people say comparing food addiction to drug addiction is unfair because we need food to survive, they are missing the point that those addictive foods are not only not needed for survival, they hinder our chances for survival by encouraging disease and death – when compared with healthful, natural foods.