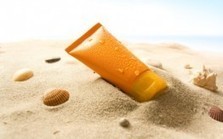 Coconut oil is an awesome natural alternative to toxic sunscreens - it has an SPF of 10, is completely natural, and doesn't contain any harmful ingredients.
That's right, the same extra virgin coconut oil found in your kitchen pantry will do the trick to protect your skin – minus the toxicity from health-compromising ingredients. Coconut oil has been used as an effective sunscreen for thousands of years by indigenous, pacific islanders. Why slather toxic chemicals on your body when you can use non toxic coconut oil instead?
Sunlight is by far the optimal way to produce your vitamin D. Blocking UVB rays may inadvertently be increasing your cancer risk by blocking vitamin D absorption. Plus, sunscreen causes cancer through carcinogenic ingredients.
Coconut oil has an SPF of 10 which means 90% of beneficial vitamin D creating UBV rays are blocked.