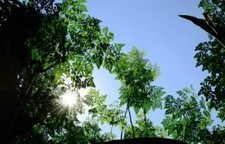 It is time to discover the many health benefits of Moringa - the incredibly powerful superfood you never knew about.
In the world of nutrition and natural health, there are some foods that come out of nowhere and then BAM – one day it's all you hear about. One of those foods is Moringa, often referred to as the Miracle Tree. But unlike some of the hyped up trend-foods of years past, there really are some benefits worth noting when it comes to this one. Without further ado, here are some of the many unknown moringa benefits. ...
Thanks to it's powerful nutritional profile, which includes nine essential amino acids, protein, and a number of vitamins and minerals, the Moringa tree is becoming known as the next "superfood". Nearly all of the tree is edible; the bark, flowers, and roots all offer some sort of use or benefit to humans or animals.