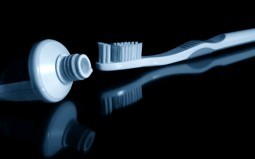 Having too much fluoride in the body can lead to a number of serious health conditions including reduced IQ, hastened development of cancer, and enhanced oxidative stress.
Recent research indicates that the trace mineral selenium may be effective in minimizing the toxic effects of fluoride and even ushering it out of the body while improving the body's defenses against free radicals. ...
With the relationship between oxidative stress and the development of cancer being well-known, and since too much fluoride reduces the body's ability to withstand oxidative stress, it may also contribute to the development of cancer....
But the researchers found that those with high selenium levels had normal levels of the key antioxidants. ...
The bottom line? Selenium could be a valuable tool against fluoride toxicity. People living in areas where fluoride levels are high may want to consider selenium supplementation. The RDA for selenium is 55 mg daily for adults, however, many natural health professionals recommend a protective dose of 100 to 200 mg. This dosage is still well below the National Institute of Health's upper tolerable limit of 400mg. Selenium is found naturally occurring in many foods including fish, meat, whole grain products and nuts. It is best to avoid taking selenium with high dose vitamin C or zinc as they may block absorption.