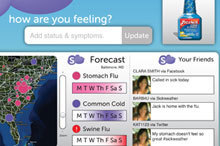 Social networking data could give clues to outbreaks of disease.
f a close friend has a cold, chances are you might catch it. A startup called Sickweather hopes to tap into the social side of sickness with a social networking service that tracks illnesses within a user's circle of friends, and to forecast outbreaks.
The startup mines publicly available data from social networks such as Twitter and Facebook, as well as from its users, to provide information on illness trends. Sickweather recently launched an early version of its site for closed beta testing, and plans to open to a broader audience in July.