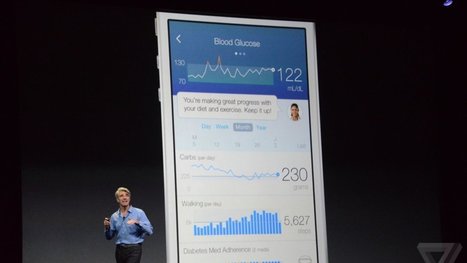 Mike Dittenber had always wanted to go skydiving. There was only one problem: "At my heaviest I clocked in around 330 pounds," says Dittenber, a technical writer from Michigan. "That's above the weight restriction for a tandem jump." During a doctor's visit last spring, he got some more bad news. "I had delayed getting a physical for a while, but eventually I had to. Turned out I was borderline diabetic and right on the cusp of hypertension." His doctor warned him that if he didn't get his weight under control quickly he would need to begin taking medication. "It was a wake-up call."
Dittenber had previously tried Weight Watchers, which worked for a time, but didn't last for long. This time he decided to take matters into his own hands withMyFitnessPal, a mobile app that helps users track their calorie intake and exercise. The app became a gateway to a universe of digital health products. "I ended up buying a Fitbit, because that pairs with MyFitnessPal," he says. "Turns out I don't hate running. I don't love it, but I can take it." He added the Runkeeper app to log his distance and purchased a Garmin Forerunner 220 to help him maintain the right pace. Since he began using the tracking his health data in June of 2013, Dittenber has lost 110 pounds.
Using a smartphone as the central hub for tracking, analyzing, and motivating exercise has become a phenomenon. MyFitnessPal, which now claims over 65 million registered users, is one of the most popular digital health apps. But its success is part of a much broader trend. Venture funding for startups in the sector reaching $2.3 billion in the first half of 2014, more than was invested in all of 2013. More importantly, three of the biggest players in tech — Apple, Google, and Samsung — have all thrown their weight behind platform plays aiming to aggregate and simplify the universe of devices and apps available to consumers.
"We could be at a real tipping point," says Harry Wang, an analyst who leads health and mobile research for Park Associates. "Fitness devices and apps have been a fast-growing but still relatively niche market. These new ecosystems, if they gain traction, could finally push the industry into the mainstream." Success isn't guaranteed, but Wang says it makes sense for the fragmented digital health industry to rally behind powerful companies. Apple's Healthkit and Google Fit can help reach a broader audience and forge partnerships with the traditional health care industry that would be hard for startups to accomplish alone. "It would be a transformation, with a lot of big winners, and losers as well."
Hardware gets the squeeze
For many years the digital health industry has been driven by wearable devices like the Fitbit, Nike's Fuelband, and Jawbone's Up. But if the titans of the smartphone industry succeed in creating a dominant platform for health and fitness data, this business could be in trouble. "A lot of the basic functions we have seen in fitness wearables — tracking your steps, taking your heart rate — those functions will become basic features on a smartphone or smartwatch," says Wang.
Software's turn to shine
While some big hardware players may get squeezed by the rise of mainstream smartphone platforms for digital health, app developers stand to make huge gains. "Devices like Fitbit and Jawbone have been essential to driving the industry forward, but they never got above 2 or 3 percent penetration with the general population," says Malay Gandhi, a managing partner at the venture capital firm Rock Health. "With smartphones as the central device powering this ecosystem, software companies will suddenly have access to tens of millions of new customers."
Gandhi believes this change will broaden the demographics in the digital health market. "Right now most of the people using this stuff are early adopter types, techies who are into the quantified lifestyle, or younger people who want to optimize their athletic performance." With just your smartphone as the baseline, he sees a chance to get older and less tech savvy people involved. "Your average consumer isn't going to learn about pairing a wristband or managing a dozen different apps. But he or she might use the software that comes standard on their iPhone."
more at http://www.theverge.com/2014/7/22/5923849/how-apple-and-google-plan-to-reinvent-healthcare