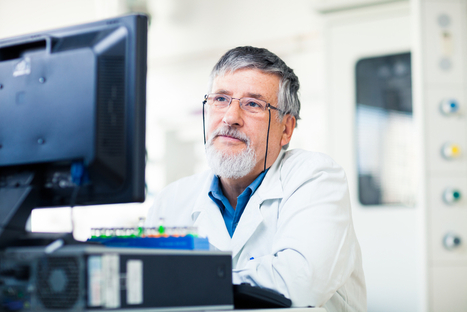 For years, medical researchers have been talking about the day when babies will have their whole genomes sequenced at birth, the day when genomic analysis will allow every patient to be treated not just based on her condition but on which treatment is the best match for her genetic quirks. There will be a day, they say, when we will all carry our genomes around on a thumb drive. But the hurdles, fiscal and otherwise, have proven difficult to overcome.
The DNA of one set of human chromosomes contains 3 billion base pairs—most cells are diploid and have two sets of chromosomes, one from each parent. Sequencing these six billion base pairs, one pair at a time, is unquestionably faster and cheaper than it once was: Since its less-than-humble beginnings almost 15 years ago, human genome sequencing has dropped from $100 million to around $1000. Instead of years, it can now be completed in a day or two.
Yet while that's incredible progress, it's not quite enough. Not only is it still too pricey for everyday use, but once that genome has been sequenced it also has to be mapped and analyzed—the process in which the sequenced base pairs are assigned to the correct chromosome and assessed for mutations, something that can take a couple of days or more. What to do with the resulting data is another problem:
The genome and its resulting analysis typically occupy about 400GB. (For reference, the 2013 laptop I'm using to write this post has a storage capacity of 250GB—my genome wouldn't come close to fitting on it.) Securely storing data from 500 or 5000 patients—at about $1 per gigabyte—typically costs hundreds of thousands of dollars per year.
A Better Algorithm
Now, Dutch startup Genalice has created software they say will decrease both analysis time and the resulting data file by orders of magnitude. Last month, the company held a 24-hour live event to draw attention to their product. Genalice used its software to analyze genomes from 42 humans and, when there was still time to spare, went on to analyze 42 tomato plants. Average time per human genome: Twenty-five minutes. Average file size: 4GB.