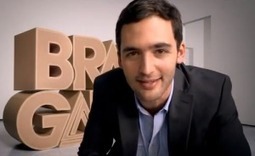 If you subscribe to Jason Silva's Shots of Awe YouTube channel, you've probably already seen his latest video Explore The "Quantified Self" Revolution.
Just like every clip from this series, the latest video is brief and straight to the point, pondering the Quantified Self revolution and how the idea of exploring everything about the human through sensors and computations excites Silva.
In less than two minutes, Silva describes how sensors on devices can create "a data rich, always on, stream of information about our biological functionings," which can eventually be used to find "patterns in the data learning how to optimize the way the data is managed, feeding that information back into ourselves transforming what it means to be a human being running in optimum capacity."
"[T]his just excites me a lot. because it's this idea that, just like we can soup up our cars to get more performance out of them, imagine how those insights into ourselves might transform the possibilities we can sort of play around with our biochemical matrix we can literally rev ourselves up to ways we could never have conceived before.
"This could be the beginning of Human 2.0," Silva concluded.
more at : http://siliconangle.com/blog/2013/11/12/human-2-0-the-quantified-self-according-to-filmmaker-jason-silva/